2 tags
What an octopus can teach you about management
fastcompany: All of Earth's successful organisms have thrived without analyzing past crises or trying to predict the next one,"writes Rafe Sagarin in HBR, free of "planning exercises," "predictive frameworks," or other buzzy human constructions. "Instead," he says, "they've adapted." Decentralize like a mollusk Consider the octopus: Fleet of tentacle and prismatic of color, the cephalopod is a...
1 tag
Working Girl Revelation #11: Promotions that come as a result of a coworker leaving don't motivate, satisfy or enhance organizational commitment.
5 tags
Authority Figures Don't Listen to Subordinates →
In a surprisingly relevant study from Stern (NYU's Business School, aka the NYU I/O rivals), we find out that our bosses really don't listen to us: Kelly See, an assistant professor of management and organization at New York University's Leonard N. Stern School of Business, was curious about these sorts of scenarios, so she put together an in-depth study of the extent to which people...
2 tags
Your Rude Coworker is Ruining Your Life →
Research published in the Journal of Organizational Behavior found that people who are regularly stressed out by the office jerk are more likely to take that stress home with them — and pass it on to whoever is unfortunate enough to be cohabiting with them. "Employees who experience such incivility at work bring home the stress, negative emotion and perceived ostracism that results from those...
4 tags
Nice Women Finish Last At Work →
Results indicated that disagreeable people — men in particular — earn substantially more in the workforce than their agreeable colleagues. But the study affirmed another long-held belief as well: in case you were in doubt, gender double standards still exist in the workplace. While data collected in the 2008 Census showed that American women earned approximately 77 cents to a...
3 tags
Four Stories You Need To Lead Deep Organizational... →
How do we unlearn the things that we still believe in our heart of hearts are true? Facts and statistics don't get the job done. Charts left listeners bemused. Prose remains unread. Dialogue is just too laborious and slow. By contrast, leadership stories can get inside people's minds and affect how they think, worry, wonder, agonize and dream about themselves and in the process create – and...
4 tags
How to Train Leaders to Make Money →
When senior managers are looking for leadership training programs for their staff, they should insist that "soft skills" and the like make up no more than 25% of the overall content. The rest should focus on more concrete themes that will help managers gain a better understanding of how to create and capture value, i.e. how to lead with the intent of boosting the firm's performance....
2 tags
5 Low-Cost Ways to Make Employees Happy →
Offer something special Share control Share the load Offer no-interest loans Show your appreciation Basically, increase autonomy, give meaningful tasks and recognize good work to intrinsically motivate. Companies should be doing these things anyway. http://www.bnet.com/blog/smb/5-low-cost-ways-to-make-employees-happy/5037
1 tag
Working Girl Revelation #10: Days off are never really days with out work. They are merely days you do work from bed, the grocery store, or the movie theater.
1 tag
Necessary
There is a fine line between indispensable and in the room.
4 tags
VIDEO: An Employee's Heart and Mind →
Mike:  It's not a want to, it's a have to. So there's natural resistance even if they see that there's a benefit to it. If someone sees something being done to them or they're being forced to do something, it's just human nature to push back.  Dennis:  Right.  Mike:  And if you're married you know how that goes. But what's truly unique about our work is that it allows individuals to...
2 tags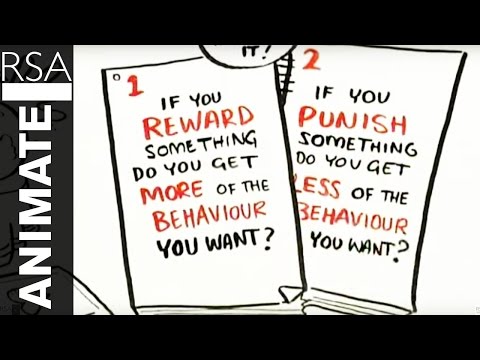 3 tags
A Quiz: Morality and Employee Enagagement →
One of the areas of Psychology that has long been concerned with the prediction of immoral behaviors is Industrial/Organizational Psychology (or Work Psychology). Indeed, this has been a very fashionable research area in this branch of Psychology particularly for the past 10-15 years. The main variable these studies have attempted to predict is "counter-productive work...
2 tags
Comparing Behavior: Career Poison? →
I assured him that many students were his intellectual equal, but he persisted in asking me to rank his strategic sense against one student or his analytical acumen against another.  Not once did this budding business leader talk about his interests and aspirations and how his abilities might serve those interests; it was all about his strengths relative to others. … What is going...
4 tags
Women Still Aren't Climbing →
The lack of women leaders in corporate America is a problem that has only become worse during the economic downturn. Attempts to make things better have done little to poke even a small hole in the glass ceiling. If a company is OK with its lack of gender diversity there are no laws to force the issue. Of the companies in the Standard & Poor's 100 index, which tracks some of the...
4 tags
Biz Schools Wising Up? →
A fresh roundup of interesting and practical research from top business schools has one thing in common: It is all about getting companies to run more smoothly. From determining how pay is doled out to chief executive officers in different geographical areas to recognizing the natural checks and balances of an office, the research is meant to help managers better understand how to operate...
1 tag
Is Flat the Future? →
Tearing down our vertical structure was easy. Building a new self-governing mindset is where the real work begins. The right balance needs to be struck between governance, leadership and culture, one that provides enough of each to guide crucial decisions such as who gets to spend money (how much) and who gets rewarded (how). As we studied other flat journeys, we saw a need to strike a...
3 tags
Vicarious Goal Situations →
Schadenfreude in the workplace? I think so. In a psychological phenomenon they are calling "vicarious goal satiation," the researchers found that individuals feel a sense of accomplishment from watching others achieve their goals, and this in turn actually makes them less motivated to achieve the same goal themselves. In the experiment, one group of people saw puzzles being...
4 tags
Power Begets Powerful Mistakes →
I'm not sure I agree with the first sentence, or really any of this article, but it's an interesting read to see the view from the other side. (And by that I mean, you know, those MBA people. Shudder.) The specific psychological mechanisms that produce the effect aren't that important. What is important is that power becomes self-perpetuating. Not only do those in power have...
5 tags
Sharing, Sharing is No Fun →
Welcome to world of "knowledge hiding," where workers become evasive, play dumb or call a report confidential - even if it isn't - whenever they are asked for information from a colleague. The findings will be published in the Journal of Organizational Behavior. "Anyone who reads this is not going to think, 'Wow, I've never heard of this before.'...
5 tags
Multitasking Makes You Fat →
In another dig at multitasking, it turns out all that shifting of focus we do also limits our inhibitions. File this under work-life balance, I think: Findings from a new study show that frequently switching your mind-set or focus uses a lot of self-control. This may leave you with less ability to control your temper, to resist cheating on your diet or to continue your exercise routine, says...
3 tags
You're Going to Read This While Doing Something... →
You're simultaneously texting your kids, answering work e-mail and talking to a co-worker about an upcoming meeting. Sound familiar? All of that multitasking you do can sabotage your self-discipline, a new study published in "Organizational Behavior and Human Decision Processes" finds. Constantly switching mindsets can lead you to snap at co-workers or cheat on your diet....
4 tags
Microsoft Doesn't Know I/O →
Microsoft has just recognized that getting company stock is no longer a motivation, and has instead shifted employee compensation towards cold, hard cash. It's a smart move. Microsoft will also apparently give larger raises to those people who work on products where the competition is fierce, such as Bing, and less large raises to those where Microsoft has the market sewn up, such as ...
4 tags
Manly Women in the Workplace →
Fast forward to this year, when Wong began an MBA at Stanford University and had to reassess herself because classmates told her she was actually on the aggressive end of the spectrum. Research shows that salary bumps and promotions can depend on how you act on the job — but as Wong has learned, nobody seems to know where, exactly, a businesswoman should fall on the spectrum between...
3 tags
3 tags
3 tags
Being Obnoxious Can Get the Job Done →
Most parents understand that redundant communication, coupled with an escalating sense of urgency, is integral to communicating because it gets the job done. New research shows that getting employees to listen up and deliver isn't so different. […] The researchers moved forward to investigate what sort of events triggered managers to deploy multiple messages. They studied the ...
1 tag
Working Girl Revelation #9: When you haven't had one in a while, a paycheck is a miracle come true. Until you realize how much you're losing to taxes.
2 tags
Murphy's Law
When you have a deadline, everything will go wrong right before it. Murphy created this law for offices, where it is ten times worse. Always.
5 tags
Hogan Award for Personality and Work Performance →
Established this week in partnership between Hogan Assessments and the SIOP Foundation, the Hogan Award for Personality and Work Performance will honor start honoring papers and articles, published or not, that best meet the below criteria: Have a sound scientific base Show innovation and excellence Advance understanding of how personality is related to competent occupational performance Be...
3 tags
Who you gonna call? →
Perhaps we can finally have hope that the layman might soon know what I/O psychology is. Maybe. Consider the fact that nearly every social introduction begins with: "so, what do you do?" There is no doubt about it: We are a work-obsessed nation. So, when it comes to dealing with the challenges of the workplace, who do you turn to? […] I/O psychology Dr. Eduardo Salas, professor of...
3 tags
1 tag
Working Girl Revelation #8: When data entry gets you down, just think of all those librarians who had to re-categorize entire libraries after Dewey came up with his decimal system. And carry on.
1 tag
Working Girl Revelation #7: Accomplishment is so much better when people say things like "cool," "awesome," and "outstanding" about your finished product.
4 tags
SIOP Income Survey 2009 →
      Gender gaps? In I/O? Aren't we better than this? Manhattan ($178,892 unweighted; $203,965 weighted) MA graduates in Industrial/Organizational Psychology starting salary: unweighted mean $56,794 and median $55,000 (n=53); weighted mean $56,807 and median $55,000 (n=51). MA graduates in Human Resources/Organizational Behavior starting salary: unweighted mean $68,643 and median...
2 tags
2 tags
Correlation is not causality. →
                   [Alt text: 'So, we did the study again and found no link. It was probably a —' 'RESEARCH CONFLICTED ON GREEN JELLY BEAN/ACNE LINK; MORE STUDY RECOMMENDED']
2 tags
5 tags
Boost Power Through Body Language →
Executive presence = competency + …biology? http://blogs.hbr.org/video/2011/04/boost-power-through-body-langu.html
4 tags
Google's Quest to Build a Better Boss →
For much of its 13-year history, particularly the early years, Google has taken a pretty simple approach to management: Leave people alone. Let the engineers do their stuff. If they become stuck, they'll ask their bosses, whose deep technical expertise propelled them into management in the first place. But Mr. Bock's group found that technical expertise — the ability, say, to write computer...
2 tags
Negotiation
If you do not ask for what you want, you can be certain that you will not get it.
1 tag
Working Girl Revelation #6: With office keys comes great responsibility.
1 tag
Working Girl Revelation #5: You don't get a lunch hour if you're eating at your desk. You get to work.
1 tag
Working Girl Revelation #4: The desire to go play in the rain must be squashed at all costs. Such things are frowned upon in establishment.
1 tag
Working Girl Revelations #3: Things will become you responsibility even if they shouldn't be.
1 tag
Working Girl Revelation #2: Fridays really are awesome.
1 tag
Working Girl Revelation #1: Coffee in a mug gets cold quickly.